The Toddler program is designed for Children from 1.5 years to 2.75 years of age.
The adult to child ratio is 1:5 with a maximum class size of 15.
The Toddler Program is divided in to two parts.
A) Toddler One – Features the Teddy theme for children from 15 months to 24 months.
B) Toddler Two – Features the Koala Theme for children from 2 years to 2.75 years of age.
Toddler One – Children 15 months to 24 months
This is a junior toddler program. This program is for the graduating infant.  Your child is working through the separation stage of their development. Your child will continue to ask the questions "Can I push against you and still be safe?", Can I be accepted if I problem-solve immaturely?", and "Can I be me and not someone false and unreal in order to get your approval?" During the separation stage your child is learning through the use of their hands and their senses. They explore their environment freely and act upon what they find to be challenging and interesting.
Toddler Two – Children 2 years to 2.75 years
This is a senior toddler program.  This program is for your graduating Toddler. A child who has begun to develop that sense-of-self and wants to explore independence. Words often used at this stage, "I can do it by myself". In this program the children are practicing all those self-help skills which includes conquering toilet training. This classroom features a child-sized bathroom to encourage independence in the bathroom. The Teachers assist in developing a potty-training program that works for parent and child.
TODDLER PROGRAM – DAILY ROUTINE
( A sample of what your child's day would look like)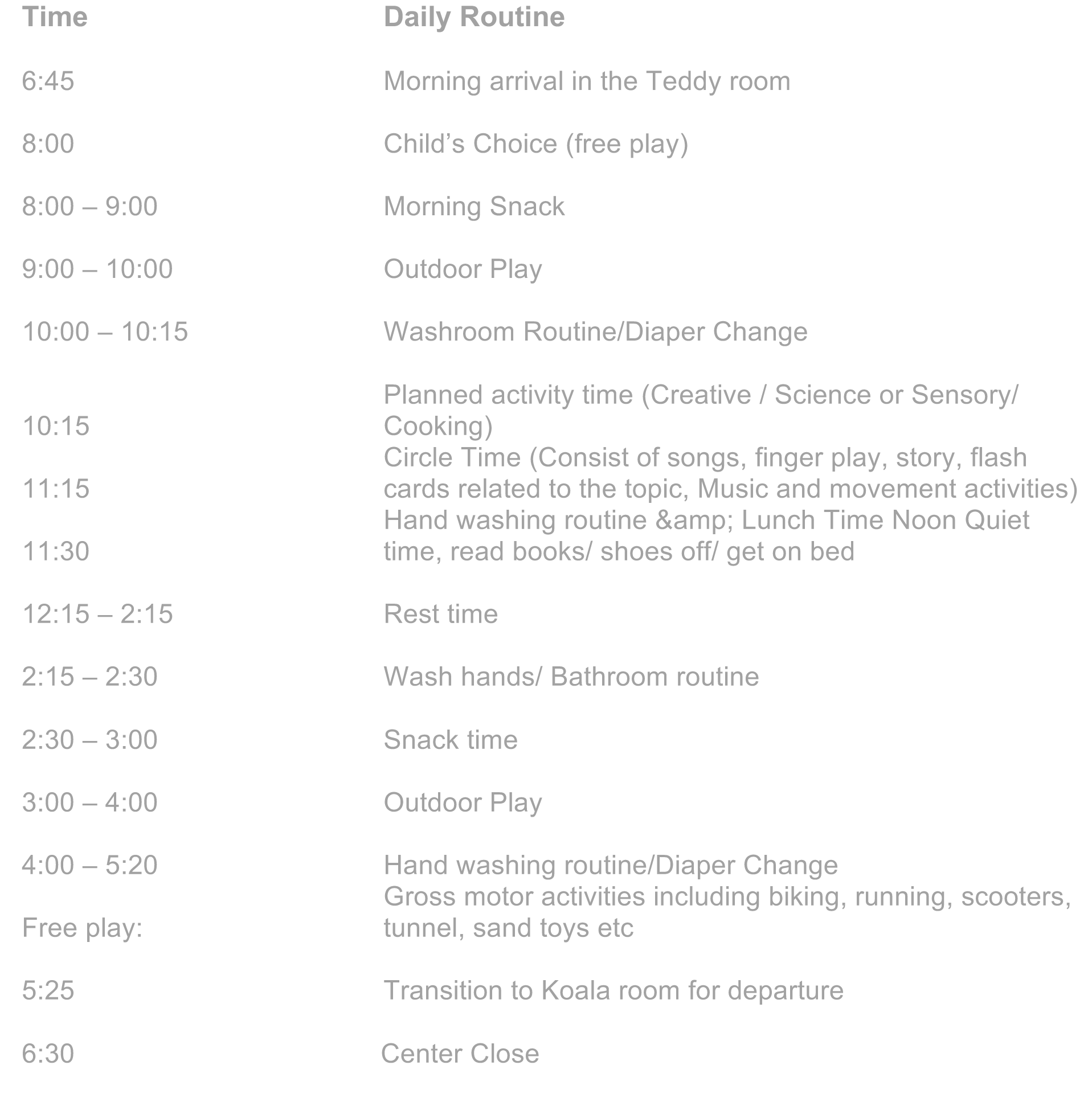 The Toddler Program is designed to promote independence, sensory, movement and language development. Your child will:
1. Continue forming secure attachments.

2. Gradually separation from the primary caregiver
3. Test reality
4. Push against others and boundaries
5. Expressing negativity like anger
6. Learn to think and solve problems. Cause and effect should be experienced
7. Establish independent identity and autonomy
8. Care of self (increased independence, including self-feeding, toilet training)
9. Care of the environment
10. Development of courtesy
11. Development of independent work habits and work choices
12. Development of gross motor skills
13. Development of hand-eye coordination
14. Development of language skills and vocabulary
At West Oakville Preschool we encourage independence in a positive and nurturing setting.  Our Toddler Program is designed to accommodate the stages of your child's development. The program employs a unique blend of activities, sounds and toys to develop sensorial, movement and language.
Our Toddler Program are prepared to ensure that your Toddler gains greater control of self. The classrooms are set up to accommodate your child's needs, with materials and furnishings at their level which we use to guide your child through this stage of self-feeding, toileting and dressing with the right blend of reassurance and support.